Well, it's official: I'm a college graduate! A few weeks ago on May 8th and 9th, the University of Massachusetts – Amherst held commencement ceremony at McGuirk Stadium with 5,500 undergraduate student receiving bachelor's degrees with over 20,000 people watching. Oh, and did I mention it was 90 degrees?
The night before graduation was filled with reminiscing about our year, listening to typical graduation songs (thanks for the classic Vitamin C) and being on the verge of tears the whole night. As our last night together as undergraduate roommates, we were determined to have a great night. And we did.
The next morning, we woke up (a little groggy) with a lot to do! With 9 roommates, we had a lot of family coming to watch us graduate and celebrate the occasion.  We had decided that we would have a party at our house for our friends and family so we cleaned and picked up some last minute essentials. We had asked that each of our families bring food, dessert or drinks so we didn't have to do it all. Once they all started arriving, it made setting up everything much easier (yay for parents)!
After taking pictures, we walked down to McGuirk Stadium, which thankfully was 10 minutes walking from our house – any longer and I don't think our poor feet in heels and wedges could take any more! Our parents made their way inside while we each lined up by school, mine being the Social and Behavioral Sciences (the biggest school at UMass). Three of my roommates were also in that school so we got to sit next to each other during the ceremony which made it much more entertaining.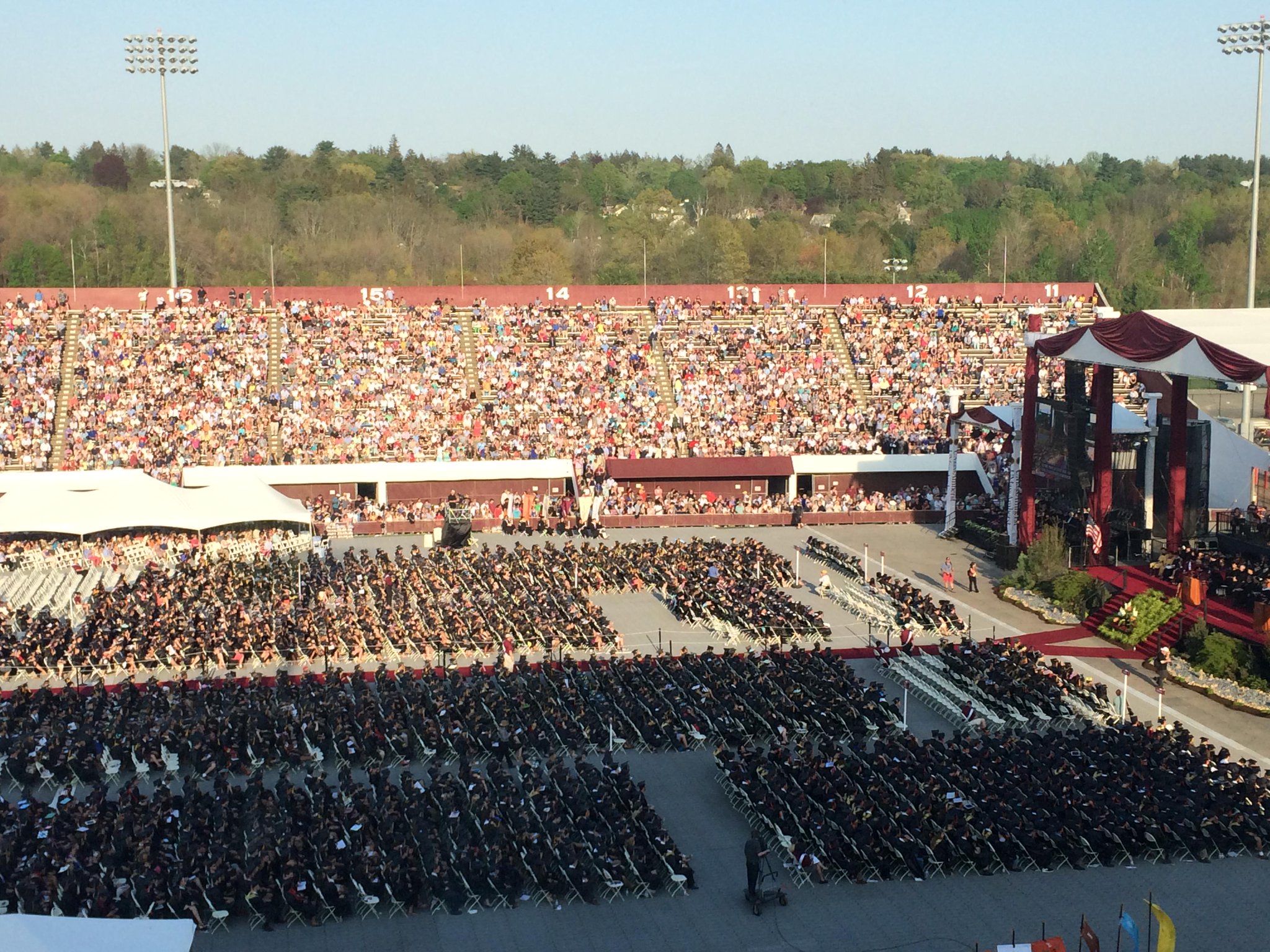 The best part about the ceremony was our keynote speaker Neil deGrasse Tyson. I honestly didn't know that much about him except he is wicked smart, studies the universe and has a series on Netflix called Cosmos. I also learned in my quick search that he was ranked the Sexiest Astrophysicist, so thank you Wikipedia for that knowledge. Anyway, he was a great speaker, full of charisma, completely engaging with the audience and not dull like someone would think a scientist could be. He told us that GPA's don't matter after college, role models are overrated and that science matters no matter what you study. I thought he was great! The 20,000 friends and family watching along side the 5,500 graduates agreed as he got a standing ovation when he was done. I highly recommend watching his address. It was even ranked by Yahoo as one of the "10 Commencement Speeches With Real Advice for Grads."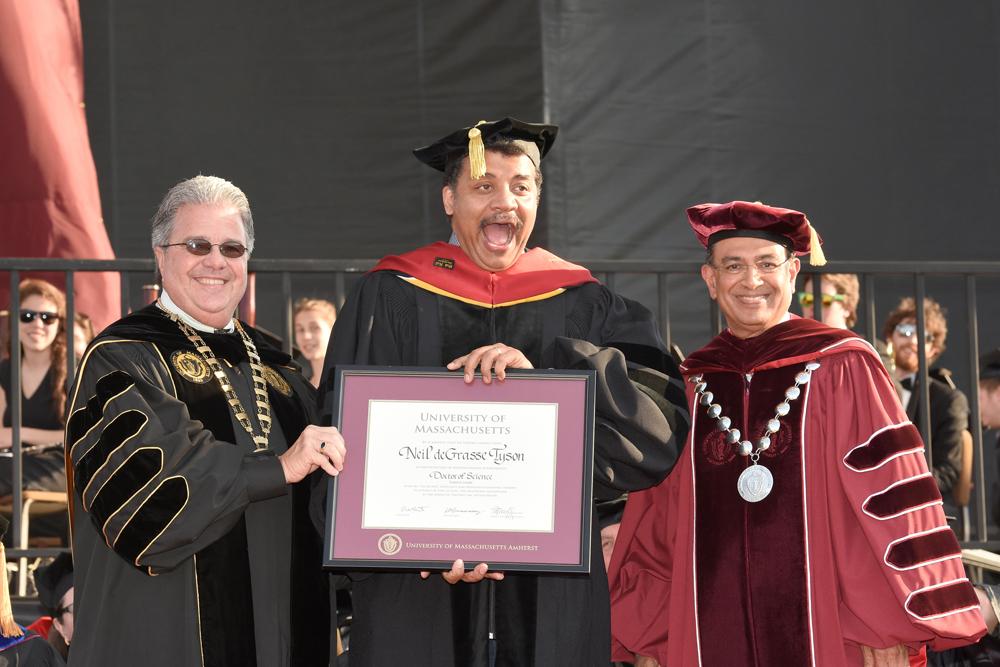 After a party at our house filled with lots of champagne, food, cake and fun, we built a bonfire and hung out with our families. We still had part two of graduation the next day.
Saturday was when we had each individual school graduation ceremony where we got called by name on stage. We each walked across the stage, got a medal (diplomas get mailed to our house over the summer) and that was it! By mid-afternoon, I was a college graduate!
Graduating from college was a day I never thought would actually come. It always seemed so far into the future that it would never be the day. And it came and it went. It is crazy to me how fast these years have gone by and how I'm supposed to enter the real world in the next few days. Going to UMass and all the different experiences I had there shaped me into the person I am today.  I'm so lucky I got to go to a school where I learned a lot about something I was interested in (yay sociology!), made amazing life long friends and had 4 great years of college.
The biggest thanks goes to all my parents (yes, the 4 of you!) for all your help along the way. I really wouldn't be where I am today without you. Mean it.
Congrats class of 2015!